Our SUPER moisturizing hand sanitizer gel--perfect for individual use or to protect your staff & clients in your salon.
Unlike other hand sanitizers that dry out your hands, you can use our gel frequently and the premium moisturizers (the same from our sunless solutions) soothe and soften your skin with each use for a super silky feeling.
Plus, when you buy one, we'll donate one!
For every ounce you buy, we'll match it ounce for ounce and donate them to hospitals, police & fire departments, or nursing homes where they are desperately needed!
Available in the personal size or 3 different "back bar" dispensing sizes: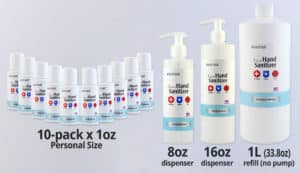 Ships by Ground only.

Frequently Asked Questions
Read more about our exceptional hand sanitizer gel: