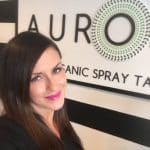 Amy: I've lived in California for over 16 years, am a veteran of the United States Air Force, and am also a registered nurse. As of December, 2016 AURORA Organic Spray Tans has been in business a little over six months. AURORA was founded and driven to improve health by providing a beautiful, organic sunless alternative to harmful UV ray tanning. "AURORA" means the most natural beautiful sunlight.
Aviva: Aurora, what a great name for a spray tan business! Tell us, why did you choose spray tanning?
Amy: After taking care of many patients as a public health nurse, I became more aware of the rise in skin cancer. In fact, I discovered skin cancer is now one of the most common of all cancers! After researching further, I found that the Skin Cancer Foundation states that one in every five patients will develop skin cancer in their lifetime. The American Cancer Society also states that exposure to UV rays, such as sunlight, tanning beds, and sun lamps, are a major risk factor for developing Melanoma.
After learning this, I developed a strong passion and desire to bring awareness and education to the public to help protect the largest organ of the body: your skin. AURORA was founded and driven to improve health by providing a beautiful, organic sunless alternative to harmful UV ray tanning.
Aviva: Is that why you chose Aviva?
Amy: I chose Aviva Labs because their motto is in alignment with my beliefs: "beauty today, health for life". AURORA is very health driven and we want to give our clients the best solution that will give them a beautiful, natural, flawless tan without risking their health. I also really love the fact that Aviva provides solutions with organic ingredients, and that they have solutions that have no odor or sticky Aloe Vera.  The diversity of solution colors is another reason I chose Aviva. Many of my clients appreciate the fact that they can choose a light glow or a "back from vacation"
look.


Aviva: We're always happy to hear compliments about our products! You get tons of compliments too, we're sure!, but what is your favorite part about being a spray tan business owner?

Amy: I enjoy seeing my clients walking away happy, and with new confidence. Many clients have shared with me that spray tanning is life changing for them.
Aviva: That's amazing to hear! So tell us, how has Aviva helped your business grow?
Amy: Aviva Labs has helped my business grow with their consistently high-performing solutions, and also the support I have with the Aviva team.  If I have a question about my business, Aviva has been very helpful in giving advice and tips and tricks on how other successful business work.
Aviva: Thank you Amy, and to wrap up: if you could give one piece of advice to someone starting their business, what would it be?
Amy: One of the pieces of advice with starting a spray tanning business would be to make sure you understand your market and plan for the slow season,  whether that be by saving capital or diversifying.  Many people do not spray tan in the winter months so in my experience so far, this is a seasonal business.
Click Here To Read More Aviva Spotlights