Learn about why Aviva Labs outshines the competition!
Aviva Labs is rooted in science. We aren't simply pretending to know chemistry and stirring together ingredients in our basement or kitchen hoping they work. We understand DHA formulations better than anyone on earth, as demonstrated by our continuing innovation in the sunless tanning industry. In fact, Aviva Labs was founded as a spin-off from a successful biotech company. Aviva Labs created the perfect solution based in science and in with health in mind. Our company motto, Beauty Today. Health for Life.™ reflects our unwavering focus on health. I am truly proud that so many dermatologists recommend us over other sunless brands because we make the world's healthiest spray tan solution.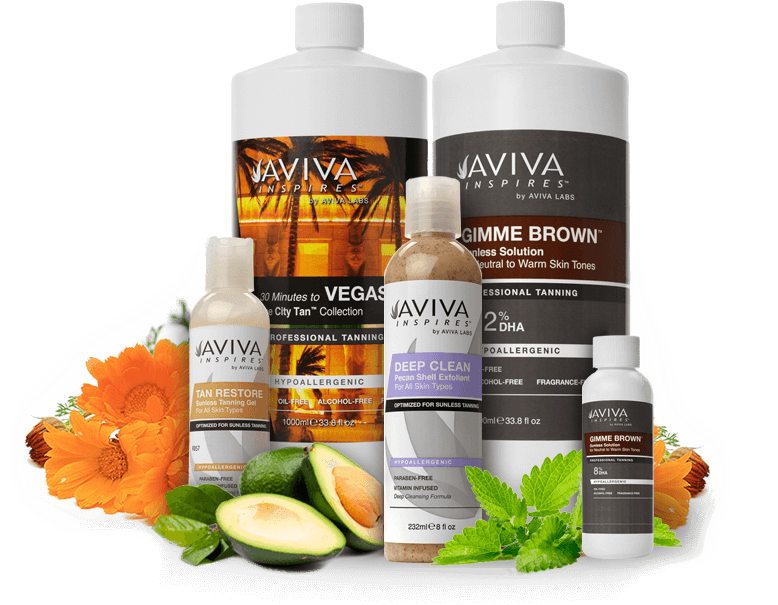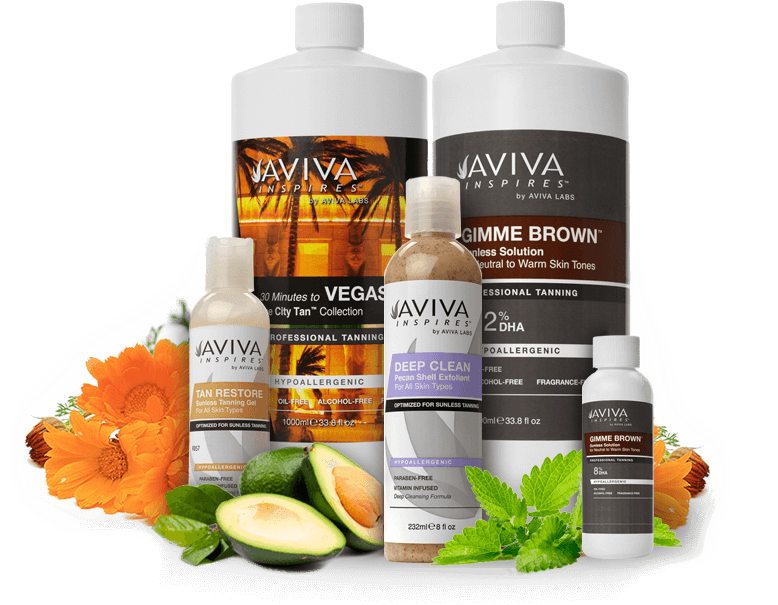 You don't have time to research all the ingredients in every product you use. I understand that just like me, you are busy running your business. You are focused on delivering the best experience to your clients so that you keep the ones you have and continue to win first-time clients. This makes it hard for you to separate fact from fiction. And unfortunately, there is a LOT of fiction from sunless tanning solution sellers. Let me assure you that with Aviva Labs, what you see is what you get. Our products perform better than any other sunless solution on the market, every time, period. You're going to get real, honest answers based on real-life testing in our R&D lab. Every Aviva Labs product is made in our own production facility so we have complete control over quality, consistency, and performance—so you can rely on perfect products every single time.
Most sunless solution companies spend more money on marketing than on their sunless solution. They scrimp and use really cheap ingredients that don't perform well. That's not us. My attitude is that if we can't be the best at what we do, we're not going to do it at all. Yes, we are not the cheapest solution. But I am proud that we will never compromise on ingredients, quality, or performance—there's just too much at stake in helping you win and keep customers for life. Cheap products don't make your business boom—great service and great products do. Our commitment to excellence means your business will always be growing when you use Aviva Labs solution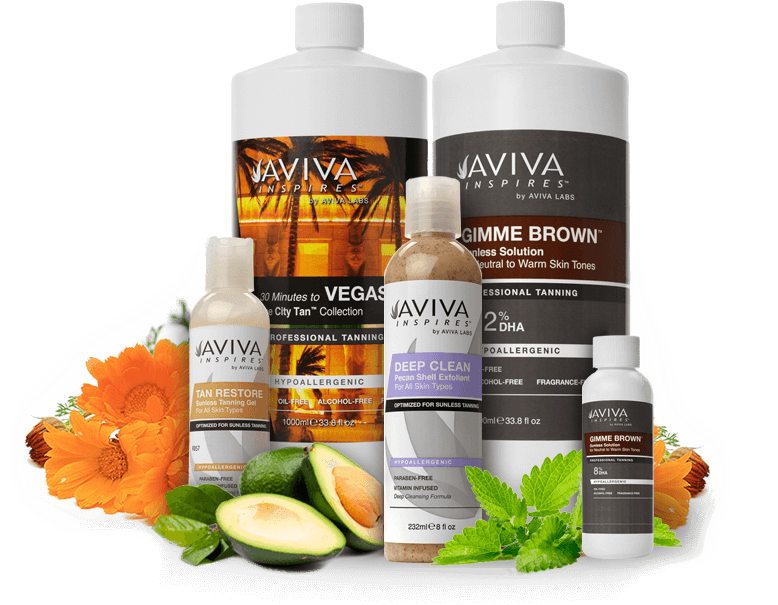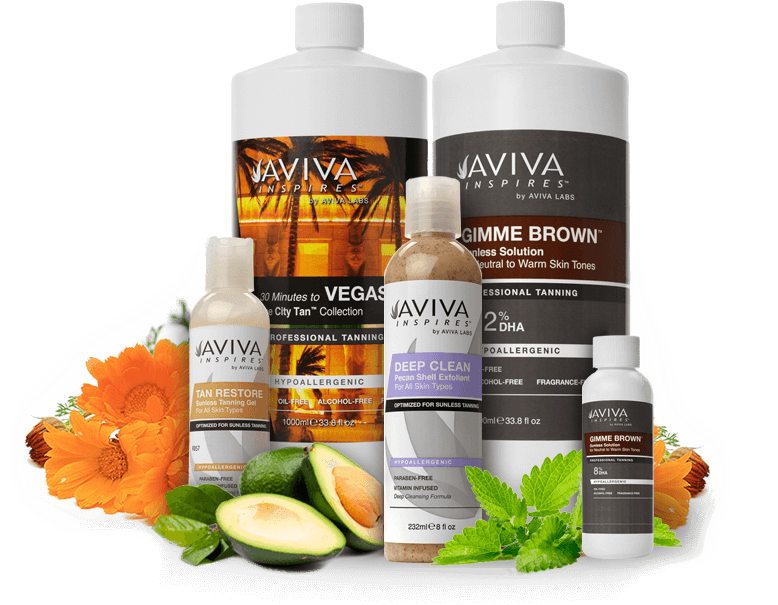 FOCUS ON CUSTOMER SUCCESS
Other companies might just try to sell you a bunch of sunless solutions, trying to get your money, without figuring out what you really need. That's not Aviva Labs. We take the responsibility to help make you successful. We are your success advocate, constantly consulting with you to figure out what you need and sharing our extensive business experience and wisdom. Often making your business successful can be hard and can take a long time if you have to figure everything out yourself. Plus it may cost you too much money. With Aviva Labs, you are never alone. We've simplified everything down to an easy-to-follow system. From the world's first spray tanning academy to a dozen different types of marketing materials to an online forum we've designed for you to get help from your peers—you can feel confident you will always have the support you need. We have a proven track record helping thousands of spray tanning professionals to achieve remarkable success. Try us, and we'll help you, too.
The Aviva Difference Shines Through In Our Products
I know it's hard to figure out which solution to choose, there are literally hundreds of them nowadays. But quantity does not indicate that the market is full of quality. To learn what to look for in a great solution, click here. To find out why our solution is the best solution for you, keep reading.
There's a reason why millions of clients are sprayed each year with Aviva Labs products and why so many of them have such great things to say about their Aviva spray tan. Our spray tans have unique features that benefit our clients' businesses.
Aviva Natural Spray Tanning Solutions are:
What do all of the benefits
above mean to you?
Sounds good, right? Email us, or call 888-692-8482 to experience the Aviva Labs Natural Spray Tanning difference today!
Letter From The President
"It all started out almost a decade ago…a Ph.D. in biochemistry, a medical doctor, and myself, a businessman with a science degree and a dream. Our dream was to create a health and wellness company with exceptional products that change people's lives. Of course with any new adventure, you are sure to run into some interesting and unforeseen obstacles. For one, we may have been great businessmen and scientists, but we certainly were not the best artists. Our original labels looked like something that belonged in a doctor's office or in a chemistry lab somewhere. Considering that it was designed in our parent company's biotech lab surrounded by test tubes and medical equipment, I guess it makes sense. Silly labels aside, I will never forget the day we sold our first bottle of solution to a client! It was a great day full of overwhelming excitement, anticipation and celebration. However, I can tell you that not all feelings were of jubilation. There were plenty of the fears, uncertainties and doubts that most business owners face at the beginning. So I did the only thing I could think of. I shook them off and labored on, in what has become the most challenging but fun adventure of my life. I'm also certain my fellow business owners can relate to late nights, long 7-day workweeks, and hours of brainstorming sessions. I did my share of lengthy travel and tradeshows. Labeling and filling millions of bottles. Loading and unloading pallets of supplies loads of cardboard boxes. Washing pitchers, mixing tubes, graduated cylinders, flasks and beakers. And washing again, and again, and again. But the word spread quickly that our sunless solutions were unlike anything else on the market. Better, faster drying, no smell, longer lasting, more even fading. Customers started reporting that their business doubled almost immediately after switching to Aviva Labs. And the world discovered us. Orders came in from France, Australia, Germany, South Africa,…and countries I had to look on the map to find. As the business grew and grew, orders became larger and larger. We started producing videos to help our clients grow their business, and opened the industry's first spray tan academy. These long nights have paid of and resulted in wonderful success. I can proudly tell you that Aviva Labs products are not only a favorite of US residents, they are now a favorite to spray tanning clients in over 110 countries worldwide! They have even been selected for use at the Emmy Awards, Dancing with the Stars Australia, The Academy Awards, The Sundance Film Festival, this year's Miss World Canada and many other events. We have also won Skin Inc. Magazine's Best of the Best Award two years in a row and have been featured in hundreds of magazines. I look forward to continuing our amazing growth. However, I couldn't have accomplished this without my terrific, dedicated employees and our loyal clients. Each and every one of you has been a tremendous part of the success at Aviva Labs. I sincerely thank you for your continued business and I promise to continue giving you the support you have grown to love from the Aviva Labs team for years to come. In parting, I'd like to say that when I think back over all the great memories since the day we sold the first bottle, I realize I have learned two very important things. One, when you have a dream, work hard, never give up, and you will achieve it. And two, don't ever let the chemist design your label. Thank you for being a part of the Aviva Labs family."