Aviva: Hi Abby, great to be able to learn a bit more about your business! To start, please tell us a bit about your very unique spray tan business.
Abby: Thank you so much for considering me for an Aviva Spotlight! My business, The Sun Tan Van is entirely MOBILE. We come to you, wherever that may be! Tans can be done in our Mercedes Sprinter van or in-home with a tent. It's really the utmost convenience in spray tanning. The Sun Tan Van has been open since September 2015. It has truly been an amazing first year!
Aviva: We are in love with this concept—it's so cool! It sounds like you love what you do. Tell us, why did you choose to start a spray tanning business?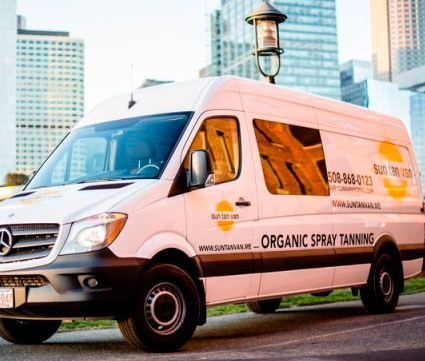 Abby: As someone who has always loved to be tan, but burns in the sun, this is the safest alternative. There are no UV rays, the process takes 10 mins, and you can choose from a range of shades – perfect for seasonal tanners. I wanted to spread my love for spray tanning and skin health and this was the best way. I also love being able to connect with my clients. Before starting The Sun Tan Van, I was a salon coordinator on Newbury Street and I really admired the client-service provider relationship.
Aviva: Spray Tanning is certainly about building great relationships! What would you say is your absolute favorite part of being a spray tan business owner?
Abby: Making my clients happy and confident, and of course making my own schedule!
Aviva: That's a popular one: being your own boss is a huge plus for starting a spray tan business! So when you were looking to start your business, why did you choose Aviva?
Abby: Before starting The Sun Tan Van, the salon I was going to for tans used Aviva. I knew I loved the color. After doing research on the product, I knew this HAD to be what The Sun Tan Van used. It's seriously amazing! I am also an organic fanatic in my personal life so it really just made sense to use Aviva. My clients love it too!
Aviva: And since then, how has Aviva helped your business grow?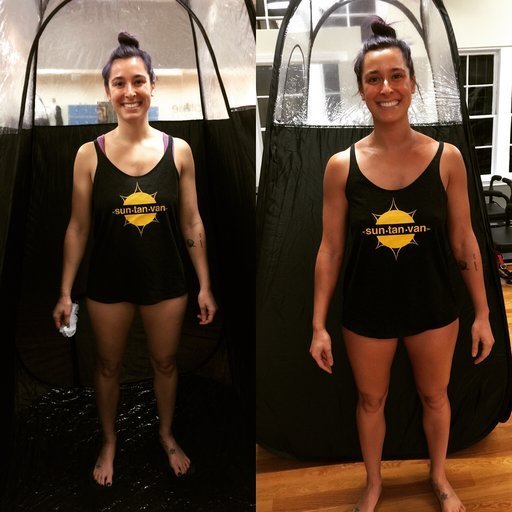 Abby: By having amazing products! In spray tanning there are 3 major factors that separate you from all the other locations people can go for spray tans.
The product
The actual skill in which the tan is applied
The technician (personality/making clients comfortable)
All three need to be of the highest quality or your clients will go somewhere else. Aviva has top of the line products and offers an educational portion which was very important to me.
Aviva: Yes, we pride ourselves in teaching our students how to be the best spray tan artists possible. We're glad it helped! Thank you so much Abby, and last but not least: If you could give one piece of advice to someone starting their business, what would it be?
Abby: Obviously use Aviva products! Make sure you test out everything you offer to clients, and good luck!
Hi Jessika, Thanks so much for agreeing to be interviewed for our latest Aviva Spotlight. Let's start with an easy one: how long have you been in business?
I started spray tanning as a hobby, with a pop-up tent in my kitchen, January 2013
So you've been at it for quite a while! What type of business do you have now?
I've grown my business recently to 2 locations. One salon offers Aviva spray tans, the second location is a full aesthetic salon, with Aviva spray tans.
That's fantastic, and I'm so glad that Aviva can be a part of that! With so many options out there, why did you choose spray tanning as a service?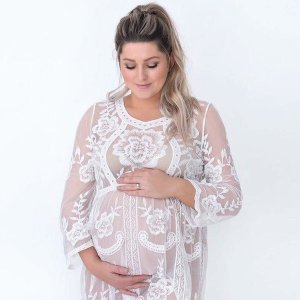 I had a skin cancer scare, but still wanted to be tanned, and Tanning beds were not an option. I didn't like the options for sunless tanning in my area. At the same time, I was studying to become a chemical technologist and we began to learn about the chemistry of sunless tanning. So I set out to find a sunless product that had good chemistry. What started as a hobby quickly turned into a business.
Sounds like you certainly came to the right place! We are all about the science behind a spray tan. Is that why you ended up choosing Aviva?
I was confident in the chemistry of the product. Knowing that the founders had a background in science, and that the products went through quality assurance testing, reassured me. Good chemistry is what leads to good results.
Very true, and happy customers! I'm sure that the quality of our spray tans is one of the biggest ways Aviva has helped you grow.
Aviva is the product I have used since day one. My business has grown to two salons, from Aviva Spray Tans. My clients trust my opinion when it comes to everything, because I have been able to rely on Aviva products to give consistent, flawless, predictable results every time. The aestheticians at my new location are booked solid for weeks, all thanks for Aviva spray tans.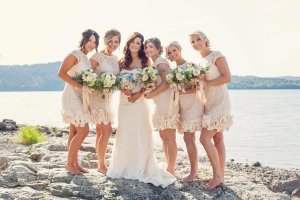 That's fantastic to hear! So now that you own two locations, what would you say is your favorite part of being a spray tan business owner?
The look on someone's face when they walk out of the room, feeling beautiful and confident, is the best feeling in the world. That keeps me striving to be better, and reassures me everyday that I made a great choice.
And if you could give one piece of advice to someone starting their own spray tan business, what would it be?
Always be one step ahead, and try to make continuous improvements. Whether it be to your work space, your technique, your social media, etc. You can never know too much about your product or others.
Aviva: Hi Leah, thanks so much for sharing your story with us! Please begin by telling us a bit about yourself, and what you do.
Leah: I've been in business for 16 years. I'm a licensed aesthetician, spray tanner, masseuse, lash extensionist, and makeup artist.
Aviva: Quite the resume! And why did you choose to add spray tanning?
Leah: When I started my business at the young age of 19, I lost a handful of clients to skin cancer in my first two years of business. In this business you can have special, unique, and personal relationships with your clients, and when these five passed away it was heartbreaking for me.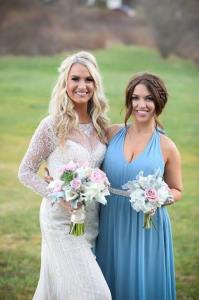 It was also right before the time Shonda Schilling (Wife of Red Sox baseball star Curt Schilling) started to become a strong advocate for skin cancer awareness. I spoke at lectures, and was invited as a guest speaker to many of these different types of awareness events, which became a passion of mine. It also pushed me to search and experiment with all things spray tan. Products, machines, solutions. You name it. I was determined to provide and educate people on a healthy alternative
Personally and professionally I have always been passionate about a healthy, balanced life style, which at the end of the day makes a huge difference in the outcome of your skin.
Over the last 16 years, spray tanning has made huge progress. I started with hand-body treatments, clear solutions, smelly solutions, and then I found Aviva. For the past 7 years I have not only been an educator for the company, but it has made a huge difference in the quality of the service I can provide for my clients.
Aviva: Thank you for sharing such an amazing journey. In the end, why did you choose Aviva?
Leah: In the last 16 years I had the chance to work with many brands. Not only have I found Aviva to be the best product, I also can't say enough about the people behind the brand, and that is important to me as a small business owner.
Aviva: That's something that's important to us too: giving back to those who support us. Can you tell us, how has Aviva helped your business grow?
Leah: Aviva has helped me grow by always staying on top of their game when it comes to their brand the quality of their products. When I need them, they are always willing to go over and above, which in this day and age is a rare quality you find in a business.
Aviva: Well if you're happy, we're happy! So we have to ask: what is your favorite part of being a spray tan business owner?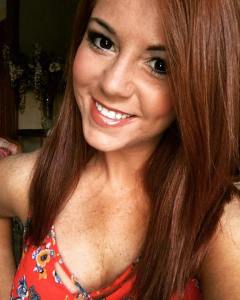 Leah: It is an affordable service that lasts for days. Unlike a blow out that can last for the day or the event, you're happy with your spray tan for days! When you can make people feel and look their best in seconds it is simply so rewarding!
Aviva: Finally, if you could give one piece of advice to someone starting their business, what would it be?
Leah: You want to be passionate and enthusiastic in whatever you do in life!
Aviva: Hi Amy, thank you for sharing your story with us! To begin, please tell us a bit about you and your spray tan business.
Amy: I've lived in California for over 16 years, am a veteran of the United States Air Force, and am also a registered nurse. As of December, 2016 AURORA Organic Spray Tans has been in business a little over six months. AURORA was founded and driven to improve health by providing a beautiful, organic sunless alternative to harmful UV ray tanning. "AURORA" means the most natural beautiful sunlight.
Aviva: Aurora, what a great name for a spray tan business! Tell us, why did you choose spray tanning?
Amy: After taking care of many patients as a public health nurse, I became more aware of the rise in skin cancer. In fact, I discovered skin cancer is now one of the most common of all cancers! After researching further, I found that the Skin Cancer Foundation states that one in every five patients will develop skin cancer in their lifetime. The American Cancer Society also states that exposure to UV rays, such as sunlight, tanning beds, and sun lamps, are a major risk factor for developing Melanoma.
After learning this, I developed a strong passion and desire to bring awareness and education to the public to help protect the largest organ of the body: your skin. AURORA was founded and driven to improve health by providing a beautiful, organic sunless alternative to harmful UV ray tanning.
Aviva: Is that why you chose Aviva?
Amy: I chose Aviva Labs because their motto is in alignment with my beliefs: "beauty today, health for life". AURORA is very health driven and we want to give our clients the best solution that will give them a beautiful, natural, flawless tan without risking their health. I also really love the fact that Aviva provides solutions with organic ingredients, and that they have solutions that have no odor or sticky Aloe Vera.  The diversity of solution colors is another reason I chose Aviva. Many of my clients appreciate the fact that they can choose a light glow or a "back from vacation" look.
Aviva: We're always happy to hear compliments about our products! You get tons of compliments too, we're sure!, but what is your favorite part about being a spray tan business owner?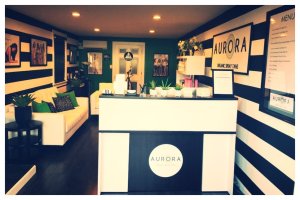 Amy: I enjoy seeing my clients walking away happy, and with new confidence. Many clients have shared with me that spray tanning is life changing for them.
Aviva: That's amazing to hear! So tell us, how has Aviva helped your business grow?
Amy: Aviva Labs has helped my business grow with their consistently high-performing solutions, and also the support I have with the Aviva team.  If I have a question about my business, Aviva has been very helpful in giving advice and tips and tricks on how other successful business work.
Aviva: Thank you Amy, and to wrap up: if you could give one piece of advice to someone starting their business, what would it be?
Amy: One of the pieces of advice with starting a spray tanning business would be to make sure you understand your market and plan for the slow season,  whether that be by saving capital or diversifying.  Many people do not spray tan in the winter months so in my experience so far, this is a seasonal business.
(For tips on how to help your business in the winter months, check out our blog article on Winter Tanning!)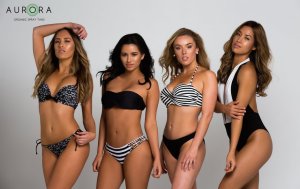 Recently, we had the pleasure of interviewing Sara and Christina of Archbeauty. This unique opportunity allowed us to see the spray tan service from both the spray tan professional's (Christina) and the salon owner's (Sara) point of view!
Aviva: Thank you both for finding the time in your busy schedules to chat. Sara, since it's your salon, we'll start with you! Tell us a bit about yourself and how it led you to opening Archbeauty.
Sara: I got into the industry because I had cystic acne starting when I was 13 and continuing on through highschool, and the only person that cleared up my acne was my esthetician. That is where my obsession with skin began, and is one of the big reasons Archbeauty is a skincare salon. We have now been in business for almost eight years!
Aviva: Eight years and going strong too! Thank you, Sara; Christina, you're up!
Christina: I have been an esthetician since 2004 and started spray tanning in 2010. I started spray tanning basically because of my obsession with being tan (I get it from my father, LOL). I worked at a tanning salon while I was in esthetic school, which is basically sacrilege! My friends, in fact had a tan intervention with me at one point…..I now know you can be too tan.
Once I started working as an esthetician, the tanning bed had to go. I started with the self tanner for myself and we also did a "tanning treatment" that was a manual tanner application (why this was a good idea beats me). The first machine I ever used was an airbrush machine. At the time I thought it was amazing, but the process was messy and time consuming. As time went on I tried new equipment and lots of brands of spray tan. It wasn't until I started working in Boston that I found Aviva.  I instantly fell in love with AVIVA. Flawless application, the air wasn't filled with bronzer, my clients weren't dripping in it either.
Aviva: that is one of our claims to fame: faster drying times, no stickiness or tackiness. We're glad you moved away from the airbrush too–that must have taken forever to spray tan someone versus an HVLP machine! So how did you two meet and decide to combine forces?
Sara: Craigslist (where all good love affairs start!)
Christina: When my husband and I first started dating I lived in Boston and he was in Rhode Island. I was adamant that I would not be leaving my job in the city, but decided to just see where I would work if I potentially moved to Newport. I knew from the moment I entered Archbeauty that I had to work for Sara. It was the greatest thing I have ever done for my career as an esthetician. Sara has created a working environment to become a "Rock Star" as she would like to say.
Aviva: You'd be amazed at what (or who!) you can find on Craigslist, that's for sure! I'm glad it worked out for you both. Sara, what made you want to bring on spray tanning (or did Christina have to convince you?)
Sara: Christina had to convince me. Being earthy crunchy I was afraid of the smells, chemicals, and the orange effect of the 90's in my spa.
Aviva: Those are some pretty big hurdles to jump, that's for sure. Thankfully spray tanning has come a long way, but changing someone's perceptions from how spray tanning used to be can be so difficult! So, Christina, we have to know: how did you convince her?
Christina: It did take some convincing! Sara trusted me, but once she learned more about Aviva, and how it is healthy for the skin, she was in…Then it was a matter of where to perform the service.
Aviva: Trust goes a long way, and that's actually what we always tell other professionals who are trying to convince a "regular" to try spray tanning: they trust you already. They know that you're not going to steer them wrong. You mentioned that you had to find a spot to actually perform the spray tan service. What did you do to overcome that?
Sara: We had outgrown our space, so we rented space at a pilates studio in back of us. Then we found that the client wanted the full experience at Archbeauty so we made some space in a small facial room till we moved to our new location. In our new space we have a room dedicated to spray tanning.
Aviva: I'm glad it worked out for you! For those who don't know, a dedicated spray tan room should be a minimum of about 10'x10', should be well lit (with natural light if possible; full spectrum/white light if not), and should be well ventilated. Sara, as the owner of the salon bringing on a new service, you must have had some worries. Did you have any misconceptions about spray tanning before you brought it on? If so, how did Christina help dispel those fears?
Sara: I trusted Christina. She had proven that she had integrity in everything that she did. I knew that if she was recommending spray tanning it would be done great and be a success.
Aviva: What were some of the challenges, from a business perspective, that you had to overcome when bringing spray tanning into your spa, and how did you overcome them?
Sara: The worries I had about spray tanning were cost and overhead. It may not be the biggest ticket item but it keeps the clients coming to the salon and it's all about the client experience. Great client experience keeps happy clients, happy clients keep coming. So it really turns out to be a great add on service.
Aviva: That is a great point about client experience, and good advice for anyone who owns a salon: don't focus solely on "how to generate the most money possible on a given visit"–you should also consider "how to generate the best experience possible" so that there are more return visits! Christina, did you have to alter your spray tan service in any way to accommodate the spa's needs/clients/space, etc.?
Christina: In our old location space was definately an issue, but we made it happen! It our new location my set up is ideal and comfortable for my guests and myself. I have noticed that my clientele goes for a modest tan. People come in just for a glow. Every one that was scared to try the spray tan I have won them over with Aviva.
Aviva: That's just what we want to hear! Sara, can you shed some light on how bringing on spray tanning has affected your business overall?
Sara: Spray tanning has brought more bridal parties to Archbeauty. Every bride wants a perfect glow and Christina has definitely perfected that.
Aviva: That's certainly a good industry to have brought into your salon, especially with all of the other services you can entice them with once they arrive! Once you brought it on, how did you get your existing clients to try your new spray tanning service?
Christina: Word of mouth is huge. I'm so grateful that people get out there and spread the word about my spray tans. Our existing clientele trusts us and the services that we provide. I have eased a lot of worried minds when they come in for their first tan  and they become my greatest clients.
Aviva: Do you offer any service packages/bundles that include spray tanning?
Christina: We mostly stick to the single visit approach but we do offer packages to our die hards.
Aviva: I love how many die hard Aviva fans are out there, hopefully you keep generating more! This one is for Sara: What is your favorite part of being a spa owner?
Sara: My favorite part of being a spa owner has been building an exceptional team that is empowered to develop, succeed, and grow. I have created a brand and people want to be a part of it. After working in the industry for over 15 years as a practitioner, I created Archbeauty out of frustration.
Aviva: Can you go into any specifics about what was so frustrating about the experience?
Sara: Many owners viewed esthetics as just a job. I wanted a career. Growth and education are important to me and, unf
ortunately, it was not to other owners. We didn't have exciting, beautiful back bar products to enable amazing treatments. The desire to provide exceptional customer experience was lacking, and there was little to no integrated marketing to help me grow my client base. Lastly, there was a lot of competition between the staff, leading to a contentious environment. I funneled this frustration into a business plan and a clear strategy to create an exceptional experience for our clients, starting first with developing an extraordinary team.
Aviva: I can only imagine how disheartening that must have been to have to experience, but thankfully you are breaking the mould with Archbeauty! How is your salon different than all those others?
Sara: Archbeauty is for the career minded esthetician that is interested in staying ahead of the market, growing with our company, and investing in our brand. Due to our success, I am excited to now consult other spa owners on how to create the right strategy, build the right team, and create a winning environment to grow their business.
Aviva: Sounds like you are paying it forward to the industry that has given you so much–that's awesome, and we are so happy to hear that you'r trying to help other spa and salon owners out: we love building the community so that we are all supporting each other rather than knocking one another down. Okay Christina, your turn: What is your favorite part of being a spray tanner?
Christina: My favorite part of being a spray tanner is the joy it brings! I mean I know how good I feel after an Aviva tan (instant Victoria's Secret model) and I just have to spread the love.
Aviva: Instant Victoria's Secret model–haha, we haven't heard that one before but that's a great way to describe it! Is that why you chose Aviva?
Christina: I choose Aviva because I know that what I am using on my client is good for their skin. Skin care being a huge focus of my day-to-day, this was very important to me. I want whatever I am doing to work well with my clients' current facial and skin care routines. I also love Aviva because of the company and what they stand for, plus I'm a Massachusetts girl and I've got to represent 
I have found Aviva to be the safest line for me to use as a practitioner as well. The air isn't filled with the overspray of a heavy bronzer. Clients really love that they don't leave dripping in tan. Last but not least I love Aviva because of the Winterglow solution! I use it all the time, clients are obsessed with it, and no other brand has it!
Aviva: That's a very good point to make. A lot of times the focus is put on the health and safety of the client while not addressing that of the service provider. I'm glad that you have found Aviva to be healthy and safe for both your clients and yourself! Sara, you mentioned that you love helping Salons and Spa Owners. Now is your chance: what advice do you have for other spas looking to bring on spray tanning?
Sara: Have a good Business plan and go into it for the right reasons.
Aviva: To quote you earlier, the right reasons being that you want a career rather than a job, that you love it rather than simply need a paycheck. And a very good point about creating a business plan–that is the biggest reason why businesses fail: they haven't planned ahead! Christina, any advice you want to add?
Christina: Find a great employee like me, hahaha! Show up, be consistent, do all the things you're supposed to, and always do your best no matter who it is or what's going on in life. You have to be passionate… it won't feel like work if you are.
Aviva: Great answer: love your job and you'll never work a day in your life! Christina, if you could give one piece of advice to someone starting out as a new spray tanner, what would it be?
Christina: If you have the opportunity to have a mentor, take it. I was lucky enough to have my co-worker Jill Miller in Boston show me the ropes. She is fabulous and has won the Allure award for best spray tan in Boston using Aviva.
Aviva: That's great to hear that she helped you out so much! So, what are the next steps for Archbeauty: will you be expanding into a larger location, bringing on a new exciting service, hiring some new people in the future?
Sara: We will continue focus of growing our flagship location at 333 Valley Road in Middletown, RI. After having moved from Downtown Newport to Middletown, RI to better accommodate our clients, we have tripled our spa services space, doubled our retail space, expanded our team, and have continued to build out more offerings to our clients.
Our primary focus will continue to be on skin, spray tanning, makeup, our famous Brow Bar, waxing services as well as home care. We are also pursuing several exciting expansion opportunities to further grow the Archbeauty brand and are building out our consultancy. The future is exciting and our team is well positioned to support Archbeauty's growth. By providing and empowering our team members, we have set the stage for a tremendous opportunity for them to build their careers; just the way I wanted it!
Aviva: Wow! You two are the real deal! We definitely see big, exciting things for you in the future, and we can't wait to see where the road takes you–glad we are along for the ride, and thank you so much for taking the time to chat!