If you can't remember the last time you cleaned your spray tan machine's filter then I'm telling you now that it is time to clean it. Don't worry, this doesn't mean some huge instruction manual or hours of blood, sweat, and tears. The filter can be taken out, cleaned, and put back in a matter of a few minutes.
Why clean my filter?
If your filter is clogged it could prevent airflow through your machine. This means that your spray gun won't get the air pressure it needs to properly "fire" the spray tan and it could end up spitting on your customers—not exactly my idea of a good time, but to each their own.
How often should I clean my filter?
Well really that depends: Generally I say that a filter should be cleaned every one or two months, but if you are super busy (awesome!) then you may want to clean it more often.
Where is the filter?
The filter is located on the underside of the compressor, and is located more towards the slender end of the machine.
What do I need?
A flathead screwdriver is the easiest way to pop the filter out of the housing, but really you can use anything.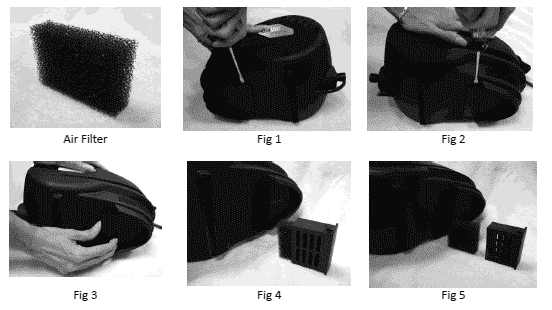 Then simply rinse with warm water–how easy is that?
You can view other helpful videos here in our library
And if you have any more questions please don't hesitate to call and we can trouble shoot it with you over the phone.